China CBKA Gear Pump Manufacturers-gear oil pump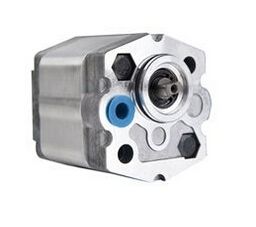 This is a kind of CBKA Hydraulic Gear Pump from Ningbo Best Hydraulic Components Co., Ltd,specialiezed in making various Hydraulic Gear Pumps.
Hydraulic Gear Pump CBKA-F * * * *
F=Rated pressure:20Mpa
*=Displacement:0.63~8ml/r
*=inlet/outlet Position Omit:rear in/front out
A:side in/rear out
B:rear in/side out
C:side in/side out
D:rear in/rear out
*=Direction Omit:CW F:CCW
*=Shaft Optional Omit:Tang D:Spline
The Gear pump CBKA consists of a gear pair supported by two aluminum bearing blocks, a housing, front cover and rear cover. The axis clearance can be automatically compensated by the bearing blocks. The CBKA pumps' features are high mechanical and volumetric efficiency, low noise level as well as low weigh/power ratio.
Notes: The CBKA series Gear Oil Pump have five options of inlet/outlet position: rear in/front out, side in/rear out, rear in/side out, side in/ side out, rear in/ rear out. Both CW and CCW direction pumps are available.
If you want to know about it, please visit our website
http://www.bstind.com/hydraulic-gear-pump/gear-pump-cbka.html